RODNEY WINS HIS 50TH CHALLENGE CERTIFICATE AND BEST OF BREED
under Breed Judge Diane Smith (Renwin Poodles)
& UTILITY GROUP 3 WINNER UNDER ALBERT WRIGHT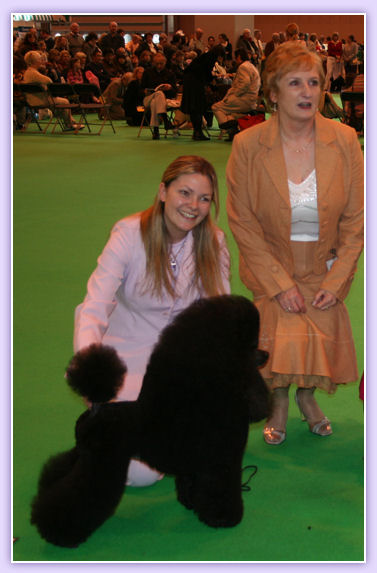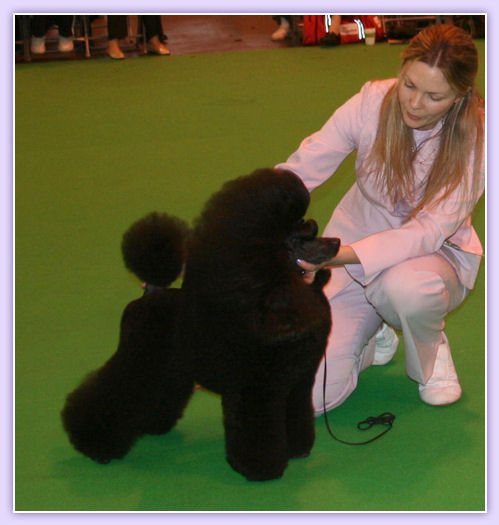 Rodney's Critique from Group Judge Albert Wight
"G3 was a great favourite of mine. Our paths first crossed when I made him RBPIS at BUBA ch show to the chow. Subsequently he was my BOB winner
when I judged the breed at Crufts. For me he is one of the very best Miniature Poodles we have had in the last 20 years. Classic head,
eyes and ears with a glorious expression. That elegant head carriage, the correct front and ribcage, the fast disappearing Poodle 'dip',
well muscled hindquarters and driving action. His young handler always has her charge in such fantastic coat and shape and he is most
certainly a big ring dog.... he is one of this country's best showdogs"


Rodney's Critique from Breed Judge Diane Smith
"a pleasure to go over this famous dog about whom so much has been written & who has had such an influence on the breed, possesses a lovely head with
well shaped dark eyes & good chin, fringed by thick leathers to produce a handsome expression which defies you to pass him by. Has excellent reach
of neck set into well laid shoulders, straight front & well angulated rear. His short back enhances his shape while the muscle condition gives him a really
sturdy body. All was covered by a wealth of thick crisp coat in full bloom expertly presented as always with not a hair out of place. He powered round
the ring with plenty of drive in a free flowing action yet retaining his outline. His ring presence & overall complete package means he
demands attention just giving him the edge over the others. Was thrilled to award him his 50th CC & later his showmanship earned him BOB over a
promising young bitch. I was delighted to watch him win G3 later in the day"