We are very proud of the history and reputation that Minarets has built up over the 50 years of our involvement in the breed. We pride ourselves on our strong distinguished line, breeding only sound quality healthy dogs. All our stock are Ophthalmoscoped with a BVA Approved Vet and Optigen eye tested for PRCD PRA to ensure our breeding stays healthy and we only breed occasionally and selectively. Our philosophy at Minarets is to produce healthy show and companion Poodles with great 'typical fun loving' temperaments whilst maintaining longevity of life.

Minarets Poodles was established in 1960 by Muriel and Fred Harwood and at this time Carol was only very young but together they purchased their first Miniature Poodle, a black female "Wendy Lou". Wendy came from the late Tommy and Edith Harwood (no relation) of the original 'Starwood Affix', and was bought for a companion for Carol. She was never shown but showed lovely qualities which enabled her to become the foundation bitch of the present day "Minarets Poodles".



The name 'Minarets' was chosen by Muriel's husband Fred, he liked the name 'Minarets' as because he thought it was appropriate because the rounded dome shape of the poms and coat on the Poodle related to some of the 'Minaret' structures where they had dome like appearances.

Minarets was registered at a time of the golden days of Poodles where the traditional show clip was the Lion Clip or English Saddle as some refer it, hence the dome/pom relation.

I

n references, the 'Minaret' has been described as 'Innovative' and an object that provides a visual focal point.... this is something we feel we have achieved generation after generation and we strive to continue to do so with every new generation produced at Minarets.




It was not long before another Poodle graced our home, a White Miniature girl joined Wendy after she went into Boarding, she was called 'Bildean Estella' and went back to the old 'Glendoune' lines. 'Estella' was the foundation girl for our strong distinguished white line, together with Sylvanite Dancing Lariot, she produced our first white 'Minarets'.... Minarets Merry Jester who did well in the show ring but even better as a sire, as he sired our first Champion, Minarets Court Jester. From this originating line we produced 5 white UK Champions and roughly 10 Overseas White Champions, but sadly due to a very low white gene pool we lost our white lines. We are hopeful that one day we will be re-introduce White Miniatures into our show team.




As Carol grew up her interest in showing intensified and she was handling the dogs successfully, making up many champions during this time and then she moved toward judging. Today Carol is passed to award CC's in 9 breeds in the Utility Group and the Utility Group at Championship level.... these breeds are the Akita, Dalmation, Lhasa Apso, Poodles (All-Sizes), Shih Tzu and the Schipperke, and had the huge honour of judging Miniature Poodles at Crufts Dog Show in 1999 and as recently as 2010 had the ultimate privilege to judge the Utility Group at Crufts Dog Show, which was a great honour and fulfulled a lifetimes dream. Carol's other love is English Springer Spaniels for which she has campaigned a few in the past and her boy 'Maurice'... Lyndora Choir Boy at Minarets became a Show Champion. She was also on the A3 List for Springers (ready to be picked to judge them with CC's) but the goal post was changed.

Carol is the Secretary of the North Western Poodle Club and Darwen Canine Society, she is
also a member of the Kennel Club and is the Chief Steward of Blackpool Championship Show.
Carol's other passions besides Dogs
are Painting, Art and Photography and she went on to obtain her Masters Degree in Art History.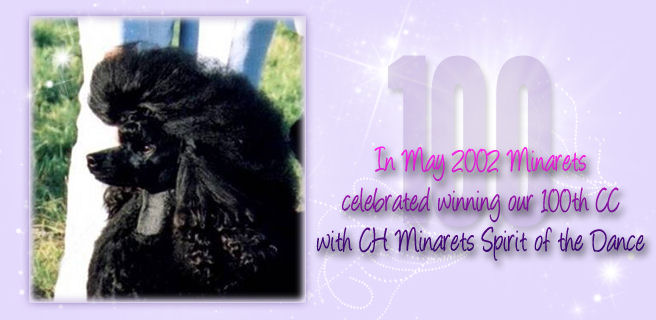 Carol's daughter Melanie was born into 'Minarets' in the eighties, and her involvement with the Poodles started at a very early age, and through her early interactions and understanding of the breed she developed while growing up alongside Poodles, she was judging Poodles at Open and Championship Shows without CC's by the time she was 14. She also had her first overseas judging experience at this time as Carol judged the adults and Melanie judged all the puppies at a Specialty show in Sweden. Melanie first awarded CC's in Poodles, Standard in 2006 (Aged 22) at Darlington Championship Show and has since judged all sizes on several occasions
.
Melanie enjoys judging Poodles overseas and has travelled the world judging in, Australia, Japan, Sweden, Norway, Denmark, Finland, Italy, Ireland, Czech Republic, The Netherlands and America and is looking forward to judging the Poodle Club of Washington in April this year. Melanie also judges many of the Utility and Toy breeds at non CC level in the Uk.

After handling a few Miniature Poodles over the years, finally in 1996, she was given her first 'proper showdog'. . . "Maria" who went on to become Ch Minarets Secret Affair, and amassed 10 CC's, 12 RCC's and was group placed. Maria remained Melanie's four legged best friend until she departed the world at the grand age of 18.
Maria was awarded the accolade of Top Brood Bitch in 2003 & 2006 and has produced 5 Champions... Ch Minarets Secret Romance for Sankersty, Ch Minarets Secret Sensation J.W & Ch Minarets Secret Assignment J.W, Czech Ch Minarets Secret Accolade & Aus Ch Minarets Its No Secret ......
BUT little did we know the legacy she would produce....



Her son..... 'RODNEY' (Ch M Secret Assignment) is the UK's Top Winning Miniature Poodle of All-Time & the current Breed Record Holder with 65 CC's.
Rodney was special right from day 1, although we only had the intention on keeping his sister 'Lily' who also became a Champion (M Secret Sensation), we ran Rodney along as at the time we had an enquiry for an outstanding boy to show. As it turned out he was declined, but by that point we knew we had something very special in our hands and how fabulous he was looking..... and .... as the saying goes . . . . 'the rest is history'!!!!
Rodney was leaving his mark as soon as he hit the rings, he took us on a journey beyond our wildest dreams......
He broke long standing records and created new ones along the way!
Click on the image below for the full history of Rodney.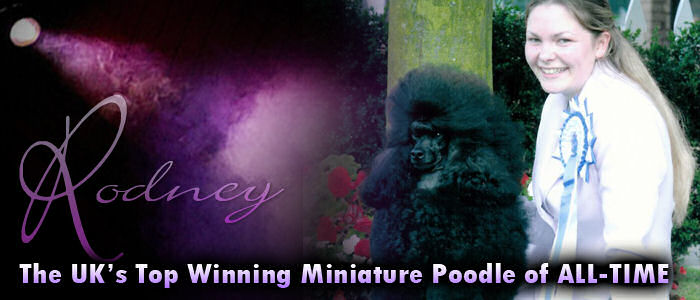 Recently Melanie has completed her degree in Wildlife and Environmental Photography BA (HONS) with Second Class Honours. Her other interests include Photography and Wildlife, Gardening and a spot of cooking, but she really enjoys nothing more than grabbing her camera and spending time with nature and wildlife at various hotspots throughout the country. You can view some of her work on her own website by following this link... Melanie Harwood Photography.

The Matriarch of Minarets, Muriel, has now retired from judging but does take great pride in going to the shows and watching the hobby she started over 50 years ago, and even occasionally, she makes her presence in the ring, and as recently as 2011 she succesfully piloted Czech Ch Cristal De Nigromanta to win his first CC in the UK at Bath Championship Show under Lesley Howard of the Grayco fame.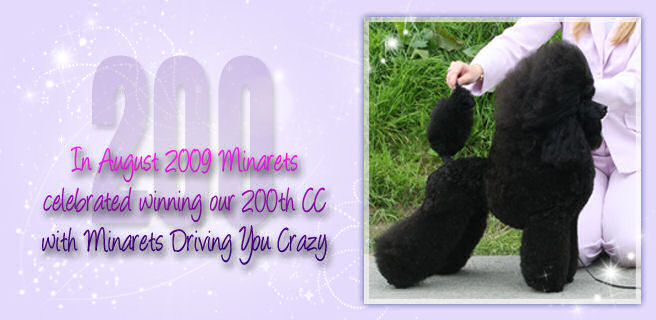 Minarets are now in our 5th decade of our involvement in Miniature Poodles and with 3 generations still actively involved, this is something we are very proud of. The past couple of years has seen us progress into a new colour. . . BLUE, we imported 'Clara' (Clarion Centrefold at Minarets) from our special friends Ann & Katherine Kennedy of the famous Clarion Poodles in California. Clara is bred down from one of our own 'Nicky'. . . CH & AM CH Minarets Reach To The Stars. Nicky made his way across the atlantic to Clarion after they fell in love with him at Crufts where he won Best of Breed, he had great success with them, not only winning an Award of Merit two years in a row at the Poodle Club Of America Specialty Show, he also won Best Stud Dog In Show there and is a TOP PRODUCER, as he has sired at least 15 Champions worldwide. Nicky lived out the rest of his days at Clarion until he sadly passed late December 2014.




'Clara' was bred to our own 'Rodney' and this exciting combination produced us our first 'BLUE' Miniature Poodle Champion 'Murphy' . . . Ch Minarets Out Of The Blue, who was made up in Dec 2014. Suprisingly the last Blue to become a Champion in the UK was over 35 years ago.

Our venture into Blues has sure been an exciting one so far, we look forward to the future with this colour with our future breeding plans.



During 2010 we ventured back into Toy Poodles, although this time with White Toys. We have been in awe of the Japanese Smash Toys for more years than we care to admit, and along with the help of another 'great' Toy Poodle kennel . . . Vanitonia, Kiki joined us. Kiki is a combination of both 'Smash' and 'Vanitonia' breeding and is a huge asset to us. Although only lightly campaigned in the show ring due to our commitments with the Mins, she has amased 2 CC's and many Reserve CC's. We look forward to the future both in and out of the ring with her as we build on her as the foundation of white Toy Poodles.

Our home is not complete without having a full house of the three sizes of Poodles, we have always had a White Standard Poodle and having lost our boy 'Sydney' unexpectedly during the early part of 2014, we could not live with the emptiness that was left..... so 'Rocky' (Reetano Lipizzaner at Minarets) joined us in the summer of 2014. Rocky has developed into a rather handsome fella and too nice a 'pet' that Melanie could not 'not' campaign him in the show ring. He is sired by the Crufts BIS Winner Ch/Am Ch Afterglow Maverick Sabre and has already proven himself in the ring by winning a Reserve CC and many Best Puppy awards as a puppy and winning his first CC while still in Junior, he is a very exciting dog for the future.





During the early part of 2015 we ventured back into the Gundog group . . . .
We have always admired the American Cocker Spaniel and having had English Springer Spaniels for many years in the past, we thought the time was right to acquire this stunning bitch from Mischtikals Kennel. Our eye was always drawn to the Parti-Coloured Americans and so Tiffany, a Black and White Parti-Colured American, joined the Minarets team, thank you to Jenny Ward for allowing her to become part of our family.

Tiffany has qualified for Crufts and is a Best Puppy In Breed Winner, Puppy Stakes Heat Winner, along with a Puppy Group 4 placing all at Championship Show level. We look forward to an exciting future campaigning her.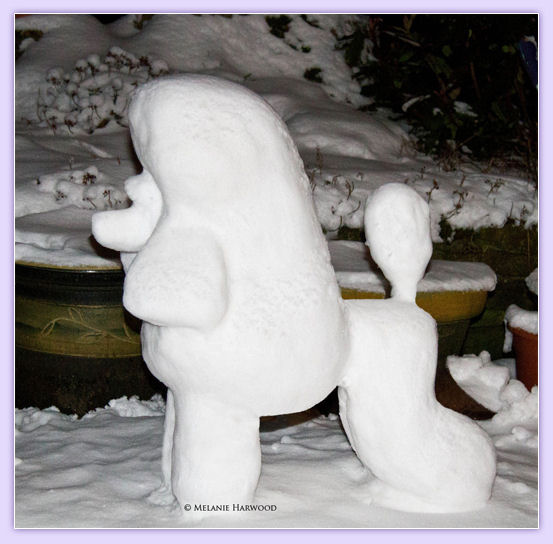 During winter in 2013 we had enough snow that Melanie did this 'Snow Poodle', we think it looks very similar to our own "Gorgous George".
Unfortunately the 'Snow Poodle' melted a week later . . .
but not before he won an award for Best Snow Dog!!!!






Views at and around Minarets in the heart of the beautiful Ribble Valley Countryside!!!